All Day Menu
Now offering Indoor and Outdoor Seating!
Our Current Limited Menu
Our Current Gluten Free Menu
Our Saturday Brunch Menu
​Spring/Summer Lunch Specials!
MONDAY: Chicken Cobb Salad $15.95
TUESDAY: Steamed Mussels $15.95
WEDNESDAY: Parmesan Crusted Salmon $15.95
THURSDAY: Chicken Fajitas $15.95
FRIDAY: Fried Flounder $15.95
EXCITING UPDATE!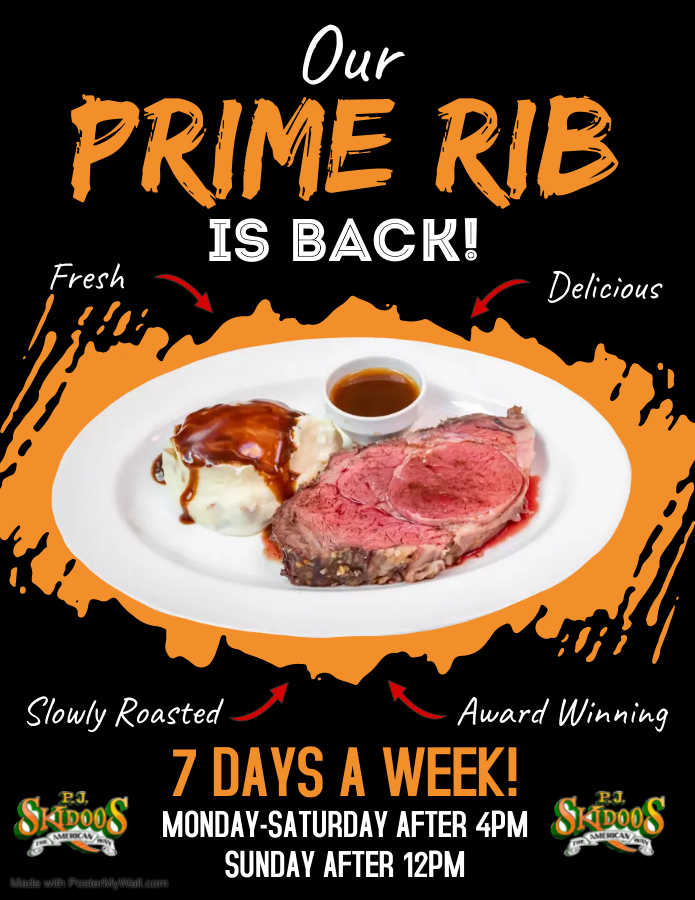 FAIRFAX CITY'S RESTAURANT WEEK
Mark your calendars and join us September 4-10 for
Fairfax City's 2023 Summer Restaurant Week!

Sunday Brunch Buffet is BACK!
Our legendary ALL YOU CARE TO EAT brunch buffet is BACK every Sunday from 10am-2pm!
Adults $19.95 | Kids 6-12 $9.95 | Kids 5 & Under FREE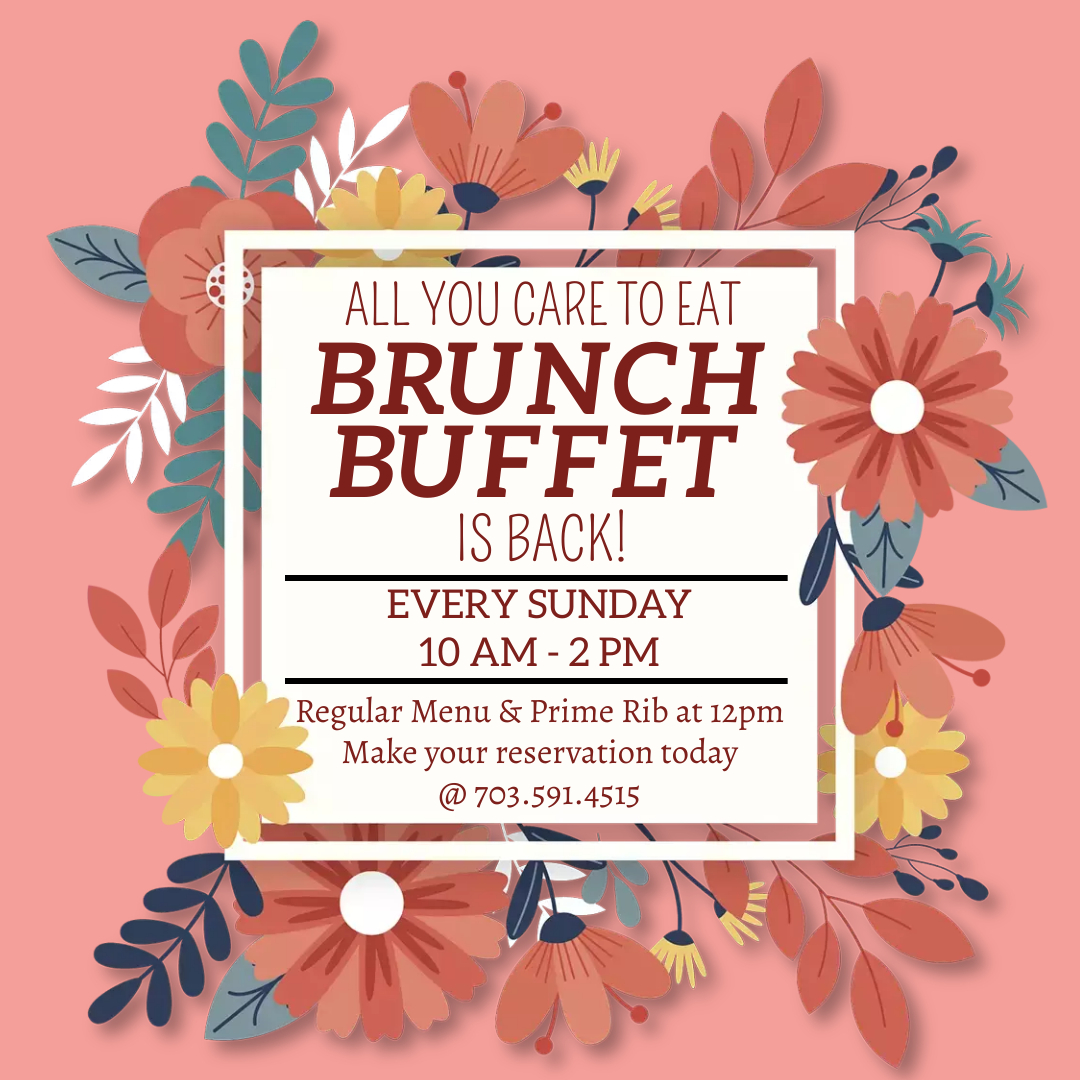 We offer a Gluten Free Menu- Click Here
We offer a Kids Menu- Click Here
Starters
Tex Mex Egg Rolls

Served with our ranch chipotle sauce

$10.95

Our Signature Zucchini Sticks

Hand breaded and deep fried served with our own ranch dip

$8.95

Spinach and Artichoke Dip

A creamy blend of spinach, artichoke hearts, garlic, jack and parmesan cheese baked to a golden brown. Served with tortilla chips

$12.95

Fried Calamari

Served with our bistro sauce

$11.95

"Redskins" Potato Skins

Filled with melted cheddar, green onions and bacon.
Drizzled with ranch dressing

$9.95

Nachos

Cheddar and jack cheeses, pico de gallo, sour cream and guacamole

$10.95

Quesadilla

Veggie - With portabella mushrooms, jack and parm cheeses, scallions and diced tomatoes with salsa and sour cream

$9.95

Chicken - with pico de gallo and cheddar cheese

$11.95

Wings

Buffalo style served hot or mild with choice of ranch or blue cheese dressing

$14.95

Chicken Tenders

Thin chicken breast strips, lightly breaded and fried.
Served with our honey Dijon sauce or served Buffalo style with choice of ranch or blue cheese dressing

$11.95

Crab Dip

Baked lump crab meat, Jack and parmesan cheese served with French bread

$14.95

Steamed Crab Legs

1.5 lbs served with melted butter

$28.95

Home Made Soup

Bowl

$6.95

Chili

Bowl

$7.95


With cheddar cheese and tortillas

French Onion Soup

Bowl

$7.95

Alaskan Crab Legs

*Upon Availability*

$28.95


1 1/2 pound steamed and served with melted butter
Salads
Skidoos House Salad

Mixed greens, tomatoes, carrots and croutons with your choice of dressing Small...

$4.95

Large...

$6.95

Caesar Salad

Crisp romaine, parmesan cheese and croutons

$6.95

With grilled chicken

$10.95

With salmon

$11.95




With shrimp

$20.95


With filet mignon

$16.95


With crab cake

$18.95

Skidoos Chopped Salad

Chopped greens, freshly grilled chicken breast, scallions, tomatoes, avocado, corn, black beans, jack and cheddar cheese tossed with our chipotle avocado ranch dressing

$14.95

Grilled Salmon Salad

Fresh mixed greens with grilled Salmon, roasted potatoes, asparagus, tomatoes, and walnuts drizzled with our honey mustard dressing

$15.95

Steak + Bleu Cheese

1Thinly sliced NY Strip steak served over wild baby greens with roasted yellow peppers, tomatoes, bleu cheese crumbles, tossed with balsamic vinaigrette

$18.95

Opa Opa Greek Salad

Mixed greens topped with freshly grilled marinated chicken breast, feta cheese, kalamata olives, onions, cucumbers, tomatoes, pepperoncini and our own Greek dressing

$14.95

PJ's Harvest Salad

Freshly grilled chicken breast, mixed greens, goat cheese walnuts, crispy apples, croutons and dried cranberries with our honey Dijon champagne vinaigrette

$14.95
Entrees
All entrees include our garden salad
Burgers
All burgers served with fries
Sandwiches
Grilled Chicken Sandwich

Grilled chicken breast with avocado, jack cheese, lettuce, tomato and our spicy chipotle ranch sauce on a warm potato roll

$12.95

Tuna Salad Sandwich

Our homemade tuna salad on delicious toasted multigrain bread served with lettuce and tomato

$11.95

Cosmos Club

Turkey, ham, bacon, lettuce, tomato, cheese and mayo

$12.95

Reuben Grill

Thin slices of lean corned beef grilled with sauerkraut, topped with Swiss cheese and 1000 island dressing

$12.95

Buffalo Chicken Sandwich

Lightly breaded chicken breast fried and dipped in a hot or mild buffalo sauce topped with lettuce, tomato and onion and served with choice of ranch or blue cheese dressing

$12.95

PJ's Cheese Steak

Thinly sliced beef smothered with sautéed onions, mushrooms, lettuce, tomato and topped with melted white American cheese.
Served on a steak roll

$12.95

Crab Cake on a Roll

Large broiled jumbo lump crab cake served on a Kaiser roll with a side of cole slaw and our own bistro sauce

$23.95

Monte Cristo

Ham, turkey and Swiss cheese grilled on thick Texas toast sprinkled with powdered sugar and served with raspberry jam

$12.95

Grilled Chicken Souvlaki

Marinated chicken served on pita bread with lettuce, tomato, onions, feta cheese and tsatziki sauce

$12.95
All sandwiches served with fries.
Desserts
Brownie Fudge Sundae

Homemade warm double fudge Ghirardelli chocolate brownie topped with vanilla ice cream, drizzled with chocolate syrup & finished with whipped cream $7.95

Apple Tart

Served with vanilla ice cream and topped with caramel sauce & whipped cream $7.95
CheesecakeDrizzled with raspberry sauce

$5.95



Chocolate Mousse

Homemade & topped with whipped cream $4.95

Ice Cream

Choice of vanilla or chocolate $3.00

Sherbert

Please ask your server for the flavor of the day $3.00

Dessert of the Day

Please ask your server for details!
1 May contain raw or undercooked ingredients. Consuming raw or undercooked meats, poultry, seafood, shellfish or eggs may increase your risk of food borne illness.